MILL CREEK BOTANICALS KERATIN SHAMPOO & CONDITIONER Set 14 fl oz (414 ml)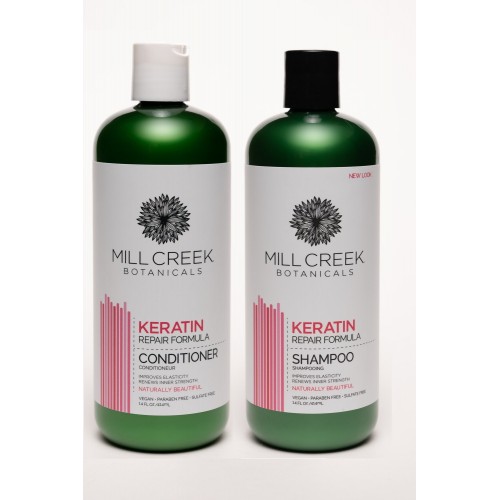 MILL CREEK BOTANICALS KERATIN SHAMPOO
14 OZ
REPAIR FORMULA
Improves Elasticity
Renews Inner Strength
Keratin the primary protein of your hair, contains essential amino acids needed for healthy looking and feeling hair. This ultimate repairing formula restores each follicle by infusing the key ingredient Keratin plus added Argan Oil and Organic Aloe Vera into each strand to improve elasticity and renew inner strength. The result is less split ends, less breakage and stronger hair.
TO USE: Wet hair thoroughly. Apply shampoo to scalp and gently massage into hair to work up a rich lather. Rinse completely. Repeat, if necessary. Follow with your favorite MILL CREEK® BOTANICALS conditioner to maximize results.
MILL CREEK BOTANICALS KERATIN CONDITIONER
14 OZ
REPAIR FORMULA
Improves Elasticity
Renews Inner Strength
The ultimate repairing conditioner, this exclusive formula uses Keratin packed with essential Amino Acids to repair, protect and strengthen your hair. Organic Aloe Vera, Panthenol and argan Oil propel this formula to the next level to give your hair renewed inner strength for greater elasticity, reduced breakage and a natural healthy bounce.
TO USE: Apply conditioner to clean hair paying special attention to ends. Work conditioner through hair with fingertips. Leave on 1 to 2minutes. Rinse thoroughly and style as usual. For more intense conditioning leave on hair for 5 to 10 minutes.