MILL CREEK BOTANICALS HENNA SHAMPOO & CONDITIONER SET 14 fl oz (414 ml)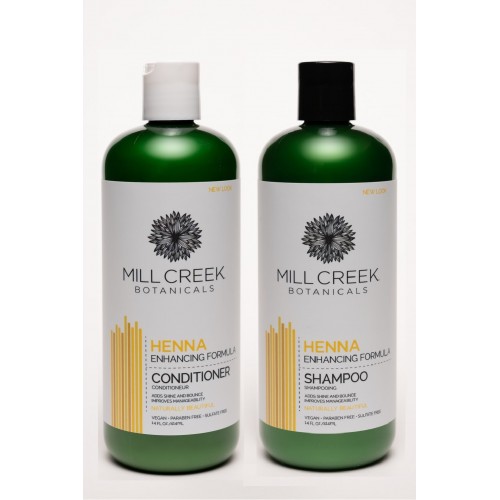 MILL CREEK BOTANICALS HENNA CONDITIONER
14 OZ
ENHANCING FORMULA
Adds Shine and Balance
Improves Manageability
Add shine and shimmer to your hair like never before with this enhancing formula that is great for all hair colors. A one of a kind blend of botanical Henna, Organic Aloe Vera and Argan Oil repairs and moisturizes while added Hops and Calendula helps restore shine and bounce to each follicle. Get improved manageability and bring out natural tones as you condition your hair daily with this formula.
TO USE: Apply conditioner to clean hair paying special attention to ends. Work conditioner through hair with fingertips. Leave on 1 to 2minutes. Rinse thoroughly and style as usual. For more intense conditioning leave on hair for 5 to 10 minutes.
MILL CREEK BOTANICALS HENNA SHAMPOO
14 OZ
ENHANCING FORMULA
Adds Shine and Bounce
Improves Manageability
Great for all colors of hair, this botanical Henna based formula enhances your natural highlights and brings out the hidden tones in your hair while added Argan Oil and Organic Aloe Vera nourish and moisturize deep into your roots. Give your hair a silky smooth look and bring out your hairs natural beauty with this enhancing formula while improving manageability, shine and bounce all day long.
TO USE: Wet hair thoroughly. Apply shampoo to scalp and gently massage into hair to work up a rich lather. Rinse completely. Repeat, if necessary. Follow with your favorite MILL CREEK® BOTANICALS conditioner to maximize results.