MILL CREEK BOTANICALS JOJOBA SHAMPOO & CONDITIONER SET 14 fl oz (414 ml)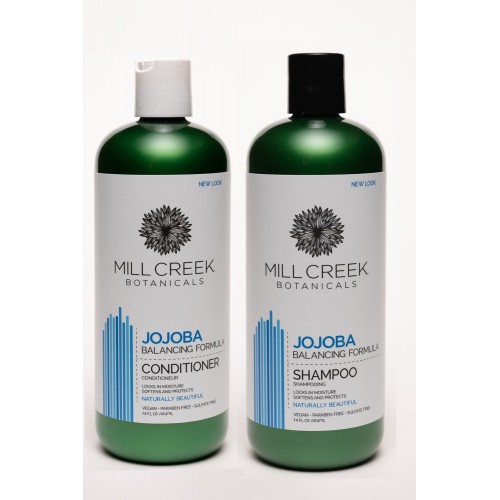 MILL CREEK BOTANICALS JOJOBA SHAMPOO
14 OZ
BALANCING FORMULA
Locks in Moisture
Softens and Protects
Clean and nourish your hair while softening, rehydrating and moisturizing each follicle with this balancing formula. Pure Jojoba Oil combined with Organic Aloe Vera and Argan Oil locks in moisture, adds softness and protects without weighing down your hair. This balanced blend will prevent dryness and give your hair a light, airy and healthy feel all day long.
TO USE: Wet hair thoroughly. Apply shampoo to scalp and gently massage into hair to work up a rich lather. Rinse completely. Repeat, if necessary. Follow with your favorite MILL CREEK® BOTANICALS conditioner to maximize results.
MILL CREEK BOTANICALS JOJOBA CONDITIONER
14 OZ
BALANCING FORMULA
Locks in Moisture
Softens and Protects
Give your hair a light and silky feel with this hydrating and nourishing jojoba blend. Known for its ability to add moisture without weight, Jojoba oil gives you a healthy, shiny look while still keeping your hair light and manageable. Pure Jojoba oil, organic aloe Vera, Allantoin and added vitamin B create a perfectly balanced conditioner for your hair.
TO USE: Apply conditioner to clean hair paying special attention to ends. Work conditioner through hair with fingertips. Leave on 1 to 2minutes. Rinse thoroughly and style as usual. For more intense conditioning leave on hair for 5 to 10 minutes.