MILL CREEK BOTANICALS BIOTIN SHAMPOO & CONDITIONER SET 14 fl oz (414 ml)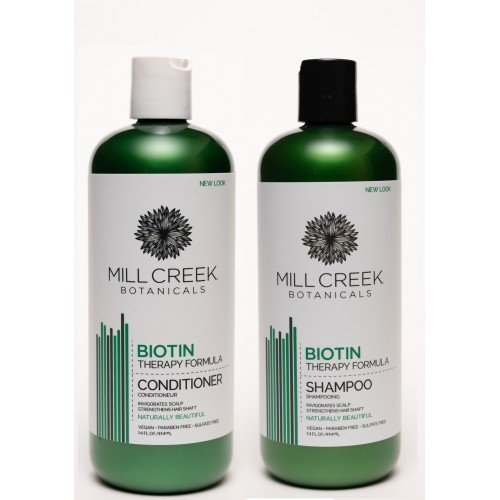 MILL CREEK BOTANICALS BIOTIN SHAMPOO
14 OZ
THERAPY FORMULA
Invigorates Scalp
Strengthens Hair Shaft
Clean your hair with a potent dose of essential B Vitamins and invigorating peppermint Oil designed to strengthen and nourish your hair from the inside out. This special therapy formula not only cleans, but infuses each strand of hair with Biotin, Argan Oil, Panthenol, Niacin, Folic Acid and a blend of nutrients specially formulated for outstanding results as you cleanse your hair each day.
TO USE: Wet hair thoroughly. Apply shampoo to scalp and gently massage into hair to work up a rich lather. Rinse completely. Repeat, if necessary. Follow with your favorite MILL CREEK® BOTANICALS conditioner to maximize results.
MILL CREEK BOTANICALS BIOTIN CONDITIONER
14 OZ
THERAPY FORMULA
Invigorates Scalp
Strengthens Hair Shaft
Packed with a rich blend of Biotin, an essential member of the B-complex, Argan Oil and Keratin Proteins, this invigorating conditioner soaks deep into your hair to help repair and strengthen from the inside out. Helps restore lost volume while peppermint Oil invigorates each follicle, this formula gives your hair the nutrition it craves.
TO USE: Apply conditioner to clean hair paying special attention to ends. Work conditioner through hair with fingertips. Leave on 1 to 2minutes. Rinse thoroughly and style as usual. For more intense conditioning leave on hair for 5 to 10 minutes.