MARNYS Memory Plus 20Vials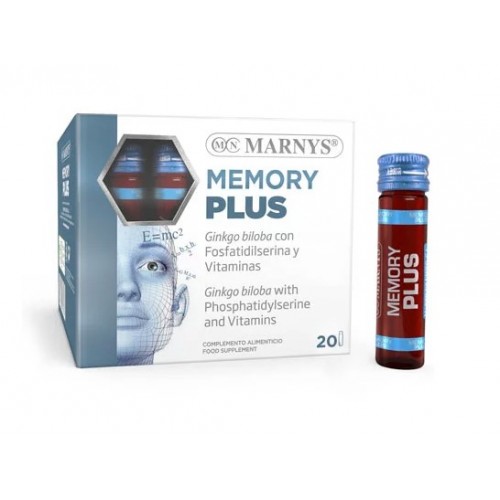 MARNYS® Memory Plus whose ingredients contribute to normal function of the nervous and cognitive systems, and of energy-yielding metabolism. Available in two formats: capsules and drinkable vials.
MARNYS® MEMORY PLUS VIALS is a food supplement with a convenient drinkable format that contributes to normal function of the nervous system, especially in older adults.
MARNYS® Memory Plus vials contains:
B-complex

, that contributes to normal mental performance and to the reduction of tiredness and fatigue (EFSA).

Ginkgo Biloba,

a plant used in traditional Chinese herbology, especially for brain functions;

MARNYS® Memory Plus contains Ginkgo

standardised

in its main active ingredients, flavonols and terpenelactones.

Ginkgo contributes to normal cognitive function and maintenance of blood circulation

(EFSA ON HOLD 2261, 2546, 3768).

Phosphatidylserine

, an essential component in the structure of neurons.