MARNYS Royal Jelly Mega 2000mg 20vials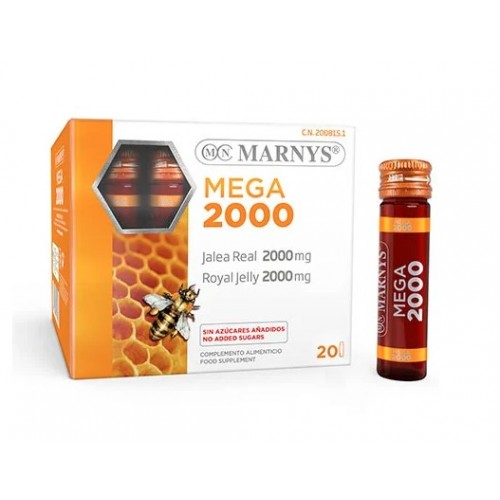 Drinkable vials with 2000mg pure Royal Jelly and vitamin C. No added sugars.
MARNYS® Mega 2000 is designed to face seasonal changes, as its ingredients favour a good function of the energy-yielding metabolism:
Vitamin C

contributes to normal energy-yielding metabolism, to the function of the immune system and to the reduction of tiredness and fatigue (EFSA).

Royal Jelly

helps fight tiredness and fatigue due to its unique combination of proteins, sugars, lipids, vitamins, minerals and amino acids. There are 29 amino acids present in this product and, of those, 10 are essential to the human body.
MARNYS® Mega 2000 is presented in liquid form, which is ideal for individuals who have got trouble when swallowing capsules. Its practical 10ml vial format is ideal to be carried in a bag, rucksack, etc.
MARNYS® has been awarded a gold and a bronze medal for bee products by the International Federation of Beekeepers' Associations (APIMONDIA), an organisation that monitors and contributes to improving beekeeping practices and that makes the obtained products profitable.
MARNYS® Mega 2000 does not contain added sugars and is suitable for diabetics.