MARNYS Royal Jelly 1000 mg with Lecithin 30 capsules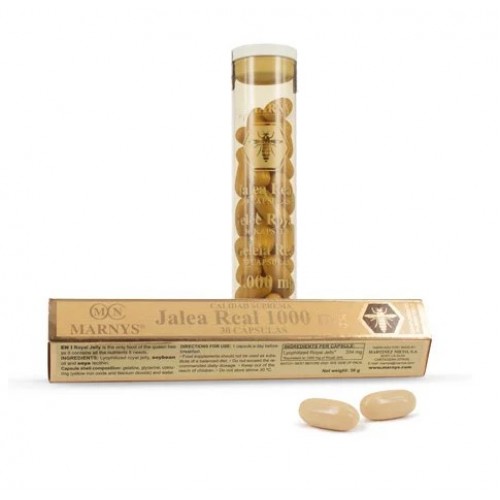 Royal Jelly in MARNYS® Royal Jelly 1000mg is pure and freeze-dried, and has been scientifically tested under strict quality control in our own laboratory. It doesn't contain GMOs (Genetically Modified Organisms).
Royal Jelly

is the food of the queen bee and is characterised by its amount of unsaturated fatty acids involved in energy-yielding metabolism, standing out 10-hydroxy-2-decenoic acid (10-HDA).

Soy lecithin

comes from Soya bean (Glycine max), which belongs to the family Fabaceae, and contains high concentrations of plant protein.

Soy lecithin

is a complex blend of phospholipids and triglycerides, being phosphatidylcholine and phosphoinositol the most important phospholipids, which are found both in the bile ducts and in the cell membranes of the nervous syste
Take 1 capsule a day before breakfast.
Each capsule contains 334mg of freeze-dried royal jelly (equivalent to 1000mg of royal jelly) in a soya bean oil and soy lecithin base.
Capsule shell composition: gelatin, glycerin, titanium dioxide and water.
ALLERGENS: contains soya bean
30 x 1000 mg capsules