MILL CREEK BOTANICALS TEA TREE SHAMPOO & CONDITIONER SET 14 fl oz (414 ml)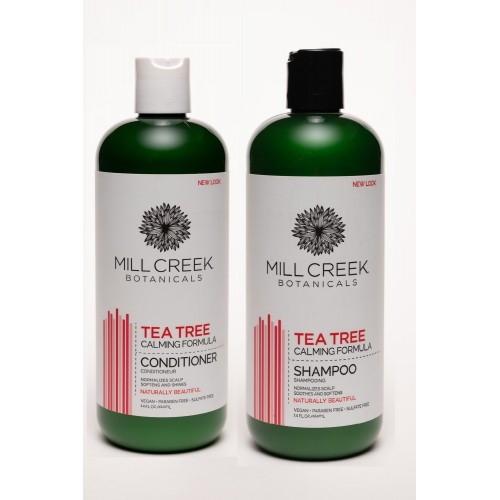 MILL CREEK BOTANICALS TEA TREE SHAMPOO
14 OZ
CALMING FORMULA
Normalizes Scalp
Soothes and Softens
Tea Tree Oil has been known and used throughout history for its soothing, protective and antibacterial properties. Combining the pure extract from the Tea Tree with Organic Aloe Vera, Witch Hazel and Argan Oil, our calming formula normalizes your scalp while hydrating and softening your hair. Our blend with panthenol, Calendula and Wild Cherry Bark will leave your hair clean and shiny.
TO USE: Wet hair thoroughly. Apply shampoo to scalp and gently massage into hair to work up a rich lather. Rinse completely. Repeat, if necessary. Follow with your favorite MILL CREEK® BOTANICALS conditioner to maximize results.
MILL CREEK BOTANICALS TEA TREE CONDITIONER
14 OZ
CALMING FORMULA
Normalizes Scalp
Softens and Shines
Known for both its soothing and antibacterial properties, Tea Tree Oil naturally heals, protects and conditions all at the same time. This exclusive blend of pure Tea tree oil combined with Organic Aloe Vera, Argan Oil and Panthenol creates a calming formula that normalizes your scalp while hydrating and softening your hair leaving it moisturized, shiny and manageable all day long.
TO USE: Apply conditioner to clean hair paying special attention to ends. Work conditioner through hair with fingertips. Leave on 1 to 2minutes. Rinse thoroughly and style as usual. For more intense conditioning leave on hair for 5 to 10 minutes.